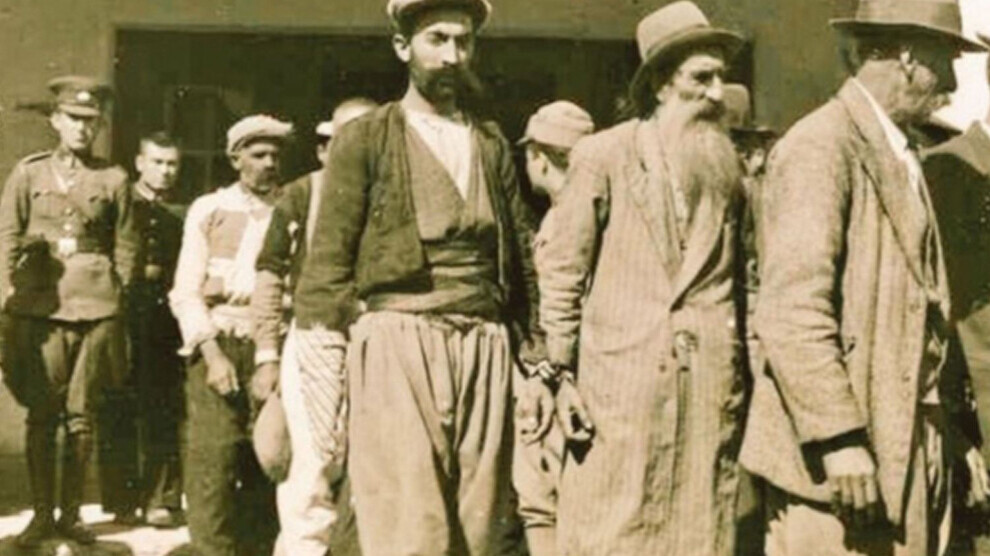 Seyit Rıza and his companions

Commemorate Seyit Rıza and his companions who were executed on 15 November 1937

On 15 November 1937, Seyit Rıza and his friends were arrested and executed in a conspiracy set up by the Turkish state in Elezîz [Turkish name Elazığ] where they had come to negotiate a halt to attacks and solve the problems, as part of the Dersim [Turkish name Tunceli] operation. On the anniversary of their execution, we would like to respectfully commemorate Seyit Rıza and the Kurdish leaders who were murdered with him

Roj Bash Kurdistan wish also to respectfully commemorate Seyit Rıza and the Kurdish leaders who were murdered with him after they were tricked into attending what they thought was going to be a meeting to obtain peace - we at RBK will never forget or forgive Turks and

NEVER

trust any Turks

The largest and most brutal massacres in human history in Dersim in 1937 and 1938. Tens of thousands of Kurds in and around Dersim were massacred with guns, bayonets and chemical gases.

We once again honor those who lost their lives in this massacre and strongly condemn the Turkish state and those who took part in the Dersim massacre. The Kurdish people will never forget the Dersim massacre and will definitely ask the genocidal colonialist murderer state to account for what they have done."

The statement added: "The Dersim massacre is undoubtedly one of the events that most clearly demonstrates the brutality of the Turkish state and its enmity towards the Kurds. In 1937 and 1938, a very brutal massacre was committed in Dersim that, for a human being, is even hard to describe. So much so that the mass murderers even slaughtered unborn babies by disemboweling pregnant women with bayonets.

People who took refuge in the mountains and caves to escape the massacre were killed with chemical weapons. Every living creature was butchered, a great atrocity and genocide was experienced.

The Dersim massacre is one of dozens of massacres carried out within the scope of Kurdish genocide policies. With these massacres, the Turkish state aimed to realize the Kurdish genocide. After each massacre, this was tried to be done through exile and assimilation practices.

These were carried out because the Kurdish people refused to give up their identity, language, culture and values. In order to legitimize the massacres, it has always been stated that the people rebelled, which is a complete distortion.

The statement said: "Once again, we commemorate those who lost their lives in the Dersim massacre, like Seyit Rıza and Besê, and we bow to their memories with respect. We once again respectfully and gratefully commemorate all the martyrs of revolution and democracy, and we reiterate our promise to the martyrs. By not surrendering to the genocidal colonialist state, Seyit Rıza bequeathed the Kurdish people a very valuable attitude of resistance.
The Dersim massacre was strongly backed by Kemal Atatürk, imagine our
HORROR
when the HDP supported the Kurd hating Kemalist CHP