Okay, so this is a copy of a thread I made on ABF. Please, if you wish to contribute to the thread yourself, do so in a rational way, with good, academic sources.
So, here, please discuss and post matters regarding (ancient) history of peoples related to the Kurds.
Let's start, shall we?
Scythians
The Scythians, an nomadic Iranic steppe peoples, whose area of influence stretched from Central Asia to Eastern Europe. They've also left traces in Kurdistan.
Scythian Onomasticon
Valentyn Stetsyuk
Research on Prehistoric Ethnogenetic Processes in Eastern Europe
http://s155239215.onlinehome.us/turkic/40_Language/StetsyukHtm/StetsyukB2ch5En.htm
An article on the Scythian language's traces in modern language; in it they found a surprisingly high amount of Kurdish parallels.
1. (awawos) - Kurd. ebaboz "thief" is suitable for anthroponimic good.
2. (awlo:nakos) - Kurd. eble "fool" and nekes "miserable". A good junction for anthroponimics.
3. (awroagos) - Kurd. ebro "eyebrow", agos "furrow" (can be "wrinkle"); Chuv. upran "to look after" and aka "tillage".
4. (adzos) - Kurd. aciz "weak" or aza "free"; Chuv. uçă open".
(argimpatoi) - Kurd. erqem "number" and feda "sacrifice"; Chuv. arkan "to break" and păta stick".
5. (ardagdakos) - Osset. ardar "leader", Kurd. elder "leader" and dek "slyness"; Turkic languages give many other possibilities of translation, e.g. Chuv. artak "delight" and tăkăs "sour", urtar "to anger"; com. Turkic ortaq (Chuv vărtăх) "a friend" and dyqyz (Chuv tăkăs "close, tight"), or artyq "great" и dağ "mountain".
6. (ardarakos) – Osset. ardar "leader", Kurd. elder "leader", ardû "wood" and req "dry". Arm ardaraxos "truthful".
7. (asaros) - Osset. a and sær "headless", Kurd. hesar "fence".
8. (aspamithareos) - com. Ir. asp(a) "horse", and Kurd. metha "prais" and rewe "herd".
9. (auasios) – com. Ir. ovoz "voice", Kurd. ĥewas "sense", "sensitive".
10. (auloudzelmis) - Kurd. hewil "help"or ewlî "holy" and zelam "man".
11. (aulou-poris) - Kurd. ewlî "holy", por "hair".
12. (wadzos) - com. Ir. bazu "arm", "wing"; Chuv. puç "head" vyçǎ "hunger".
13. (walos) - Kurd. bala "top"; Chuv. vulă "trunk, stem"; OE wala, walu "stick".
14. (wendzei) - Osset. bindzæ "bee", Kurd. banz "jump".
15. (wessa) - Kurd. beş "part, share", or bes "sufficent", or bəş "tribute", or bêşe "small wood, forest"; Chuv. pěçě "thigh" věç "finish", OE wiss "sure, trustly".
16. (witou) - Kurd. beta "to vanish"; Chuv. pětev "body", "amulet".
17. (wiste:s) - Kurd. bistî "stalk" or bista "trusty" or bista "lover".
18. (wolas) - Kurd., Pers. etc bolo "top"; Chuv. pulu "gingerbread".
19. (boudzas) - Kurd. boz "grey", bûz "ice"; Chuv. puç "head".
(germanos) - com. Ir. garm/germ "warm";
20. (geros) - Kurd. gewr "grey";
21. (gola) - Kurd. gol "dog", gole "senior herdsman", Osset. gal "ox, bull";
22. (dada) - com. Ir. dada "father";
23. (dandaksarthon) - com. Ir. dandon "tooth and Kurd. şert "agreement"; Chuv. šărt "oath". The root  is fixed in epigraphics in North region of the Black Sea. Kurd. şert "agreement" and Chuv. šărt "oath" coincides to it good phoneticly. It is interesting that an oath for tooth, words "I give the tooth" and a suitable gesture are present in criminal and even in children world nowadays. However the Kurdish word can be borrowed from Arabic. Compare .
24. (daou) – Kurd. daw "tail"; Chuv. tav 1. "gratitude", 2. "dispute";
25. (diagoras) - Kurd. dia "blessing" and gor "grave, tomb";
26. (didumoksarthos) - Kurd. didan "tooth" (com. Ir. dandon) and şert "condition"; Chuv. tytăm "control, management" and šărt "oath". Although such word is also in Arabic (šart "condition") Compare .
27. (didza) - Kurd. diz "thief";
28. (didza-dzelmis) - Kurd. diz "thief" and zelam "man';
29. (didzarou) - Kurd. diz "thief" and rûvi "fox";
30. (dindou) - ir. din (Kurd. dîn) "faith"; better Chuv. těn "faith" and tav "gratitude";
31. (domeo) - Kurd. dûmayî "remains";
32. (doridzou) - Kurd. dor "circle"; Chuv. tură "god" and çăva "cemetery, Chuv. tări "lark" and çu "summer".
33. (doulas) - Kurd. dol "ravine";.
34. (eisgoudiou) - Kurd. e'yş "joy, spree, fun" and qude "proud"; Chuv. ěç "work" and kut "ass"; OE īs "ice", gōd "good".
35. (ergino) - Kurd. erk "job, matter" and îna "faith"; Chuv. er "to tie"and küme "truck";
36. (dzadzous) - Kurd. zaza(n) – Kurdish tribe;
37. (dzaldzou) - Kurd. zal "old" and zo "cord; Chuv. çulça "leaf";.
38. (dzeilas) - Kurd. zeyle (zehle) "pester".
39. (zinna) - Kurd. zîn "saddle" and nav "girdle"; Chuv. çěn 'to win";
40. (dzoure) - com. Ir. zor/zur "force"; Chuv. çyră "light-brown".
41. (dzopura) - Kurd. zopir "great"; Chuv. çupărla "to embrace";
42. (dzopurion) - see previous;
43. (dzo:rsanos) - Ir zor/zur "strength, force"; Chuv. çur 1. "spring-time", 2. "half" . 3. "to tear", sǎn "face", sǎnǎ "spear", sun "to want".
44. Išpakai (Scythian king or war-lord in Assyrian sources) – this name is a serious argument for Iranian origin of Scythians however it could not stem out of Ir aspa "a horse", but out of Ir spaka "a dog". One can find in Turkic languages some variants of explanation of the word but it really could have Iranian origin. Maybe Cimmerians named their enemy by such scornful name "a dog".
45. (kardious) – different explanations are possible - Kurd. kerdî "furrow"; Chuv. kǎrt "few", xurt "worm"; Gr  "heart".
46. (karsa) - Kurd. kerş "wood chips, splinters"; Chuv. xyrçă "spine";
47. (kamasarue:s)- Kurd. kam , Osset. and other ir. kom "desipe, wish"; com. Ir. sar "head"; better Chuv. kăm "ashes" and ără "grey".
48. (ma) - Kurd. max "source"; Chuv. may "side" or măy "neck";
49. (madzis, madzas) - Kurd. maze "axis" or mazî "splinter"; better Lit mažas, Let mazs "small";
50. (maito:nion) - com ir. maidan "place, stand'.
51. (me:sakou) - Kurd. maşaq "beloved";
52. (mostion) - com. Ir. mast "drunk" or "bitter";
53. (olgasus) - Kurd. olk 1. "province" 2. army"; Chuv alka "ear-ring".
54. (owarga-dakos) - Kurd. warge "place, stand" and deq "plane, smooth";
55. (ovaradzakon) – "a beaten tramp" (Afg avāra, Tal awərə, Kurd. êperо etc "tramp, vagabond", com. Ir čak- "to beat")
56. (pane:ios) - Kurd. pene "secret";
57. (panias) - see previous;
58. (pateiros) - Ir pata/pada "foot", Kurd êrîş "footstep".
(pistou) - Kurd. pist "error, miss";
59. (pourthake:s), (pourtauos) - Os fyrt "son", Kurd. purt "hair"and Tal. taka "billy-goat"; Chuv. purtă "axe" and aka "ancient plough";
60. (purre)- - Kurd. pûr "pheasant";
61. (re:skouporis) - com. Ir. rişk "louse", "nit" and Kurd. por "hair";
62. (roume:talkas) - Kurd. rûmet "cheek" and elk "glutton";
63. (sabada) - Pers. sabad, Afg. savada, Yag., Yazg. sabat, Kurd. sepet "basket; Chuv. săpat "face";
64. (sabo:dakos) - perhaps as previous;
65. (seavagou) - Kurd. seav "otter", se "a dog", waq "sense, feeling".
66. (seuthou) - Kurd. sewt "loud"or sewda "mind, reson";
(basileus skilouros) - Kurd. şilor "plum";
67. (sturakos) - Kurd. stûr, Osset. styr, sutur and other Iranian "great, strong, thick";
68. (sturanos) - see previous;
69. (taroulou) - com. Ir. tar/tor "dark" and Kurd. law "child";
70. (a tribe on the north of Scythia, mentioned by Herodotus,)Thyrsagetae, according to Valerius Flaccus – Abayev explained the name as "quick deer" (Pers, Kurd tūr "ardent", Os sag "deer"). One can pay attention that morpheme getai/ketai is present in some people names ( , , ). Beside this, Thracian tribes  are known too. We can conjecture that this word means "people". The most near on meaning is Chuv kĕtü "herd, flock, crowd". The Thissagetae means "furious people" (OE đyssa "ruffian"). If the form of Valerius Flaccus is more correct, what is possible as it correspond the name  (see), then Thyrsagetae – "the people of giants or sorcerers" (OE đyrs "giant, demon, sorcerer").
71. (pourtheiou) (pourtauos) - Kurd. purt "hair"; Chuv. purtă "axe", OE furđor "forward".
72. (sadaiou) - Os sädä "hundred"; Cuv sut "to sell" and ujav "holiday"; Kurd sade, Afg sada "easy"; OE sāda "string", iow "yew".
Another article from the same author can be found here : alterling2.narod.ru/English/DruhaAnglACimm.doc"]alterling2.narod.ru/English/DruhaAnglACimm.doc
Genetic evidence
Scythians are often linked to the paternal haplogroup of R1a1, one which a high amount of Kurds also posses; depending on the group tested, R1a1 can range from 12 to 25% among Kurds.
http://www.zazaki.org/files/Kurds.pdf
Of course, this does not necessarily mean that this is inherited from Scythians, other Iranic groups also likely carried R1a1.
Psuedo-evidence
Hats
Something I've posted earlier on the forum:
the pointy hats Kurds are often depicted as wearing in antique images bear a striking resemblance to the hats of the Scythians.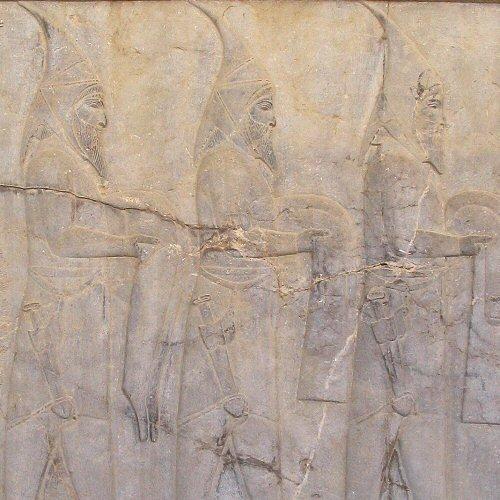 Though it must be noted that Assyrians also have very similar hats in their folk costume.
The Alans
Furthermore, there's a prominent Kurdish tribe named "Alan", the same as a tribe of Scythian-related peoples. Though, as far as I know, the Scythian Alans didn't pass through Kurdistan. (never mind, I believe this is wrong)
Alright, that was the first post, expect more in the coming days.
Feel free to contribute, it doesn't all have to be ancient history either.