Photo exhibit celebrates legacy of Kurdistan's referendum
A new institute for photojournalism celebrated its opening with an exhibit dedicated to the Kurdistan Region independence referendum this week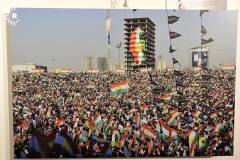 They chose the commemoration of the historic vote because of its importance to the Kurdish psyche.
"It was important for two reasons. One, for Kurdish people and from the other point as a photographer, as an artist," said Younas Mohammad, co-founder of the Framing Photojournalism School in Erbil.
Mohammad was born in Duhok but raised in Iran. He is a contributor to the renowned international agency Getty Images.
Although the Kurdish nation faced turmoil directly following the vote, including a flight ban, Iraqi forces and the Iran-backed Hashd al-Shaabi taking over Kirkuk and other disputed areas, as well as other unrest in the region, Mohammad believes holding the referendum was still important for Kurds.
"They were successful in breaking us down, we crashed, we lost that opportunity [for independence], but after some weeks and months we started our life again. And now you can see, after one year life is normal again," he said, adding that he wanted the world to be reminded that the Kurds are a peaceful people who only ask to be respected by other nations.
"Please accept us, please support us. We want to be a part of this world," he added.
Mohammad's partner in the institute venture is Safin Hamid, a photographer for AFP.
The institute will be a place to give workshops as well as to showcase student projects with a public exhibit room, he explained.
"We wanted to renew the feeling of the referendum to keep it in people's minds," he said. "Definitely people still have hope and will not give up on independence."
For Tola Faraj, a photographer originally from Kirkuk, his camera is a tool to document history.
He told Rudaw that he was in a rush to finish his PhD thesis in biomedical science in Britain last year so that he could return home in time to not only document the historic day and events leading up to it with his camera.
When asked by his professor why he was in such a rush to return home, he replied, "We're going to have a big event and we don't know what's going to happen so I have to be there. As a photographer, I want to cover this event for my kids, for the next generation so that everyone can see it."
The referendum held deep meaning for him and his family, Faraj explained. He was born the year his uncle was arrested and executed for his Kurdish activism. His father named him Tola – meaning 'revenge.'
More than three decades later, casting a vote for independence was an "amazing day," he said. "It was like I could see my uncle. This is what he was fighting for and what he did for us as Kurds."
Recognizing the events of October 16 in Kirkuk following the referendum as a "dark time" in Kurdish history, he added, "The reason that I am here and showing one of the photos of the referendum exactly one year after is giving me hope."
"How every Kurd remembers the 16th of October, we will also remember the referendum because this was our hope and dream. This was my uncle's dream."
http://www.rudaw.net/english/kurdistan/260920186